He might have been an admirer of his promising brazen in the distance, although it is assumed that many Barça B games in Group 3 of the Second Division B will not have seen this season. Maybe it's just a timely bet motivated by the Frenkie de Jong's sanction, expelled in the last League match against Espanyol and down on Sunday against Granada at Camp Nou. Or it is possible that he has agreed to a request from the sports management to start showing him a love that Ernesto Valverde only gave him with droppers, with the risk of a new flight of talent. In any case, in the absence of knowing if a '9' will arrive to replace the loss due to Luis Suárez's injury, which will be four months low, the rise of Riqui Puig The first team has become the first visible decision, the symbol of the change in Barça initiated by Quique Setién.
His presence already continued in the training of the first team, confirmed because he was no longer allowed to play on Wednesday the Barça B-Badalona (2-1) postponed in his day, deludes a large sector of Barcelona that sees him at finally inherited from Xavi and Iniesta. There were many in the environment who used his name to attack Valverde for not believing in the quarry. Setien gains followers from the first day ascending him and even the president, Josep Maria Bartomeu, it serves as a shield to withstand some blows referring to its departure from the culture established by Johan Cruyfffirst and by Pep Guardiola, then. The danger is that it ends up becoming a broken toy used by each other for populist purposes.
The 20-year-old midfielder, a native of Matadepera (Terrassa), is pure self-confidence with the ballIt has the DNA of La Masia in the veins, although its style is different from that of Xavi and Iniesta. Theirs is not the control, but the overflow in any zone of the field and the vertiginous conduits. It looks more like Iván de la Peña when he began to marvel at Barça in the 90s and its defects are similar: precipitation in decision making and difficulties in understanding the game without the ball. His physique, very thin and small, does not seem prepared to fight a melee ball in the First Division.
He also has no goal, although he does privileged and accelerated vision of football. He is very colorful and ambitious, as he showed a few months ago publicly complaining that Valverde was taking him to a few trainings this season after having officially debuted last season in the first team with the League already won. He threatened to leave. In friendlies, as in the charity of Cartagena in November or in several of the last two preseason, he has marveled.
Message to the template
The sanctioned De Jong will not be on Sunday, but it seems that, in addition to the Reappearance of Ter Stegen in the goal, may already be available Arthur After a month and a half of pubalgia. And Rakitic, Busquets and Vidal want to play the first game with Setién, with the question of whether Sergi Roberto will be inside or side after Aleñá's march on loan to Betis. In short, the ownership of Riqui Puig is difficult to occur. On Sunday it will be checked if Riqui's is real fire, a message to the squad and the quarry, or artificial, facing the gallery.
In any case, Quique Setién, who on Wednesday already sat in the box of the Estadi Johan Cuyff to take notice of the Barça B players, starts keeping his word of looking down. He proclaimed it in his presentation: «The quarry players will come to train with us and participate. This must be clear to the first team players. If the talent below breaks through, it is because it deserves it. Whenever a new kid appears, he has an energy that ends up driving and makes those above not relax. It is a message to those below. If they really progress and earn it, they can play perfectly in the first team and be one more ». Base football is one of the topics that creates more debate in Barça. The new technician already knows.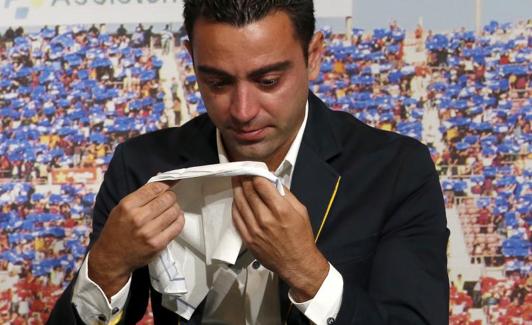 Xavi Hernandez. /

Xavi did not accept Barca's offer because he considered it "precipitous"
Qatari Al-Sadd coach, Spaniard Xavi Hernández, acknowledged Thursday that last week he received an offer from Barcelona to replace Ernesto Valverve on the Barca bench, but he rejected it.
The former Barcelona player will lead his team this Friday in the final of the Qatar Cup, in which Al-Sadd will face Al Duhail. In the pre-match conference, Xavi said: «Yes, I received an offer from Barcelona», which was presented by the technical secretary Éric Abidal and the general director Óscar Grau.
"I did not accept it because I thought it was too hasty," added the former Barcelona player, who admitted that his dream "is still training Barcelona one day", in addition to understanding that "it is still a little soon." Barcelona's proposal descended a few days on his team, but Xavi said: "Now I'm thinking about this final."
Regarding Barcelona's commitment to Quique Setién as a replacement for Ernesto Valverde, Xavi was very happy with the choice: «I like to coach Barcelona as a way of working. I hope you have successes ».
.