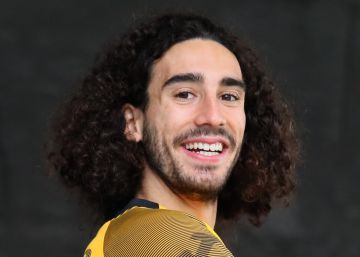 Ángel Torres, president of Getafe, calls him "the hairs". With less condescension than reverence, because Marc Cucurella Saseta (Alella, Barcelona, ​​1998), fine as a marathoner and crowned by a portentous curly mane, has become one of the engines of the most crushing team in LaLiga. Loaned by Barça until summer, this side converted to extreme raking the field as a plow dental. Tomorrow at Alfonso Pérez (4 pm, Movistar) will test the resistance of Madrid.
Question. How do you remember Madrid 3-0 with Eibar?
Reply. With great love because the summer we went to Eibar was hard for me and my family. And that match was a relief. I did not expect. He had recently arrived and had few minutes. We played a Copa del Rey game on a Wednesday, I made a bad clearance and they scored a goal. It was one of the first games I played as a starter and I was scratched home. That weekend we played against Alavés and they expelled our end. I was on the bench and the coach trusted me. He took Cote away, he left me all the lane and we won 2-1. I will always be grateful to Mendilibar because the easiest thing with a young man would have been to discard it. He did the other way around. The next game I played against Valladolid and then we played against Madrid. We did a great game. Not only me. We were all ten. Beating Madrid 3-0 does not happen every day. For me it was the confirmation that going to Eibar I chose the best option for my career.
P. Are you especially excited to face Madrid?
R. The day of 3-0 yes because I came from the quarry of Barça, and had cultivated a rivalry in the mini classics. It was a dream. I had already had Barça players in the locker room. On the other hand, those of Madrid came from winning three Champions in a row, I played my first season in First, and I went from watching them on TV to having them next to me in the tunnel. I looked at them and they seemed bigger than I thought. It was unforgettable. Everything went perfect because we made three goals in which you can participate, and they also canceled a goal when we were 0-0 and Cote saved a goal on the line. We went 3-0 in the 65th minute and I remember that I was running half an hour without just touching the ball. When I finished the game I was not aware of what had happened. Until I arrived at the locker room and called my wife on the phone I did not realize the impact that 3-0 had.
P. How do the games end after 90 minutes with the level of mental aggressiveness that this Getafe prints?
R. It is what the master asks us. May we be alive, intense. He always emphasizes a phrase at the break: "47 minutes left." It does not count 45. Count the added. It makes us plugged in from beginning to end because at any moment everything can happen. If we are more agile and awake than the rival in every moment, the circumstances turn in our favor.
P. What makes you feel better soccer player? An action with the ball or an action without the ball?
R. The movements in the matches are not thought. They leave you alone. Sometimes because you worked them during the week. It is true that I feel more comfortable in those transitions, in those quick attacks. I like to move. I like to run. Without realizing it I have appeared on the right side and Jaime [Mata] He yelled at me: "But where are you going!" Here the 14 who enter each game feel it the same way.
P. He constantly offers himself to his goalkeeper, David Soria, to start the plays. But he almost always ignores it and takes Molina out. Is that unchecking back is intended to be followed by an opponent or is it really done to give you the ball?
R. I want him to give it to me! Someday it will happen to me!
P. The Getafe is a team of short possessions. How do you live the constant activity without the ball?
R. I try to give solutions to my colleagues. Let them see that they can count on me, that whenever they have the ball I am going to offer them a pass, which I will try to help them. Here, above all, we stand out for going fast against it. One of our characteristics is to press above where you feel that the opponent can make a mistake in order to take advantage of something. There have been some plays, such as the goal of Alavés, that came for a robbery of mine. Those kinds of moves are giving me good. I am feeling comfortable with the technicians and colleagues. The good roll off the field has an impact inside. It is seen that we are like a family.
P. Is that aggressiveness in the transition, that thinking a lot about attacking when defending and defending while attacking, is it achieved with training or is it in the player's temperament?
R. It is innate. But you can also train. In Eibar with Mendilibar I learned to play with very risky approaches. We had the defense very high and the attacks started very high as well. Mendilibría made us be in intermediate positions. You see that the players who have arrived new to Eibar this year are costing them. Because if you don't get the idea right, you look a bit lost. Understanding me so well with Mendilibar helped me a lot with Bordalás, because it is something similar.
P. How do you press in intermediate positions?
R. When you squeeze out of your area and you stay between the areas occupied by two rival players; and to whom the ball goes you squeeze it with the accompaniment of those behind. Pressing is good for me. I have always been lateral and it is something you have inside, but when you press higher you feel more like running because you know that if you steal you can create a chance of danger in favor.
P. Did futsal contribute anything in this regard?
R. My father signed me up for futsal because I thought it was too small for soccer seven and the field was too big for me. There maybe you take a little more spark or mobility. But where I learned to attack in this way was in the Barça quarry. Because there the two sides play practically as extremes, in teams that have the ball all the time. Growing up as a side in La Masía has helped me to understand the extreme position as I developed in Getafe.
P. Are the laterals the players who have more space and more time, in this football of pressure and back pressure?
R. The League is very close for that. Because the teams are planted very well in the field and it is very difficult to make occasions and make them. The goal is in the center and everyone protects the downtown area more and leaves the bands freer. Outside there is always a deficit because in the end some are left off the hook. I think there we are hurting. We have good strikers who are doing well and we try to get the most out of them playing by band and putting them in centers and taking advantage of those few spaces left by rivals to reach the goal.
P. Are the sides more important than ever in this football?
R. I don't get bored in the band. The training is fine because it is where you can improve. But what we like the players is to play the games because that is where the points are. You don't find those nerves and that emotion anywhere. Feel that by an action of yours, one more effort, you can save the team or you can help or score a goal is the motivation and essence of football.
You can follow EL PAÍS Sports on Facebook, Twitter or subscribe here to the Newsletter.
.