Michael van Gerwen had a hard time concentrating on Sunday during the quarterfinals against Darius Labanauskas at the darts World Cup in London. The Brabant defending champion and number one in the world nevertheless won quite easily with 5-2.
"Darius can play fantastic darts, but it is quite a boring guy. There is nothing in terms of character. He does not blind or blind after a 180. Then I think: hup, come on, gas on it," said Van Gerwen at the Alexandra Palace.
"Darius is therefore not a nice player to play against. I have to learn how to deal with that, but I prefer to compete with guys like Gerwyn (Price, ed.) Or Gary (Anderson, ed.). It was hard for myself I made it hard for myself, but the most important thing is the victory. "
Van Gerwen started against Labanauskas. He trailed 0-1 and then even escaped 0-2, but he recovered on time and then went on to 5-2 with at times convincing but alternating play.
"After the first set I cursedly walked off the podium. I was disappointed and angry with myself, because I wanted to show more to the spectators and the television viewers. I wanted to put a better game on the mat, but unfortunately that didn't work out. But again, in the end only the victory counts. "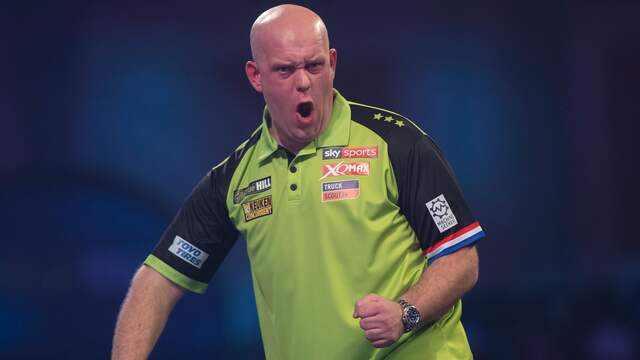 Michael van Gerwen screams during the match against Darius Labanauskas. (Photo: PDC / Lawrence Lustig)
"My scoring capacity must be much better"
In the third set there was still a striking moment. Labanauskas needed a medical time-out, because his finger bleed after he cut it open when catching an arrow. Caller George Noble, of course, had to get a patch for him behind the scenes.
"It didn't matter to me that the game would stop for a few minutes. If he needs a patch, then it is. It was also nice that he indicated it, because the blood could have gotten on the dartboard and then I you spend much longer. "
Van Gerwen faces Nathan Aspinall in the semi-finals on Monday evening. The number twelve in the world and the winner of the UK Open almost lost a 4-1 lead earlier on Sunday, but eventually won 5-3 against Dimitri Van den Bergh.
"We don't have to pretend to have played dramatically against Darius. I was there at the most important moments. But my scoring ability needs to be much better. With this longer game format I can get away with some mistakes, but it just can't happen to me "Ah, I am only human."
.