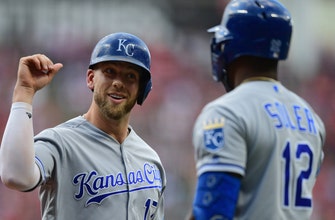 CLEVELAND – Hunter Dozier homered in the first inning and Jakob Junis threw a two-hit ball through six innings when the Kansas City Royals played 1-0 vs. Cleveland on Saturday-evening and won the Indians winning series in six games.
Dozier sent a 349-foot shot straight to Adam Plutko for his 15th home run. That run got up when Junis and three relievers combined a three-hitter and the fourth shutout of the Royals season.
Junis (6-8) hit seven and walked a walk before being eliminated after 94 pitches on a steamy evening with a heat index of 99 degrees on the first field. The right-handed didn't allow a runner past second base. He won for the first time in four 2019 starts against the Indians and stopped 13 in a row between the second and sixth inning.
Scott Barlow and Jake Diekman followed, while Ian Kennedy worked a perfect ninth for his 17th save. Kansas City is 7-2 since the All Star break, Junis recorded two wins.
Righthander Plutko (3-2) worked a high seven innings for a season and gave up two hits.
Cleveland, which entered the day three games behind AL Central-leading Minnesota, has been an MLB best 27-11 since June 4.
Francisco Lindor had a lead-off single in the first and Jason Kipnis started the sixth with an infield-single for the lone singles off Junis.
Cam Gallagher from Kansas City had two doubles, but was eliminated at second base with no outs in the eighth by fellow catcher Roberto Pérez. It turned out to be expensive, because Whit Merrifield and Alex Gordon followed with back-to-back singles from Tyler Clippard.
Royals midfielder Billy Hamilton made a great looping in the sixth and robbed Lindor with a leaping grip before he bumped into the wall.
Prior to the competition, Kansas City designated to commission former poet Wily Peralta. The right-handed went 2-4 with a 5.80 ERA in 42 appearances. Righty Josh Staumont was recalled from Triple-A Omaha.
Ian Kennedy makes sure that Jakob Junis gets the honor after having thrown six innings against the Indians: "June started and had a great game. I tried to follow it – don't mess it up." #AlwaysRoyal pic.twitter.com/BEvdpHXNS4

– FOX Sports Kansas City (@FSKansasCity) July 21, 2019
QUIET TREATMENT
The Indians are expected to be active before the July 31 trading period, but manager Terry Francona does not encourage general manager Mike Chernoff to make moves. "I don't think it's my place to ever say that, because I think it's disrespectful to the players we have," said Francona. "I really had a lot of fun with this group."
THE LONG GAME
The Royals kept RHP Brad Keller in their selection last season to keep him under Rule 5 rules. Their patience is bearing fruit, as he has a 1.80 ERA over his last three starts, covering 20 turns. "We immediately saw that he had really good things," said manager Ned Yost. "He has great makeup, great competitiveness."
ROOM OF THE ROOM
Indians: RHP Corey Kluber (fracture under the right arm) is scheduled for a bullpen Sunday of 25-30 pitches at Progressive Field. The double AL Cy Young Award winner only throws fastballs in his second descent session since he was hit by a line ride on May 1 in Miami.
NEXT ONE
Royals: RHP Glenn Sparkman (3-5, 4.54 ERA) threw a five-hitter for his first shutout-shutout against Tuesday against the White Sox. He is 0-3 with a 10.89 ERA in five starts.
Indians: RHP Zach Plesac (3-3, 3.56 ERA) takes the mound in the final of the three-game series. He threw three scoreless innings against Detroit on Tuesday in a rain-shortened start.