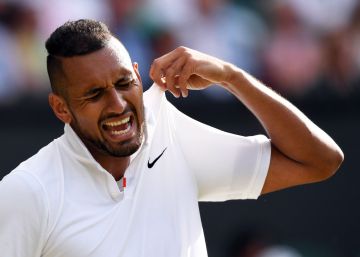 No time for fans to leave the center or journalists to polish their chronicles, Nick Kyrgios took a seat in the conference room after three volcanic hours. "You seem very excited when you ask me this. You must have a very boring life … ", he replied to the reporter who opened the shift and asked him about the previous night, in which he was seen in a pub of the area (Dog & Fox). "You were in the pub. This is embarrassing … ", he replied to a girl who had praised his party, because beyond the circus Kyrgios unfolded the fan and offered fantastic doses of tennis.
"I know what I am capable of. I am a great player, but I do not do the rest of things. I'm not the most professional guy. I will not train day after day. There are many things that I need to improve to reach the level that Rafa, Novak or Roger have had for so long. But no, I do not think that at the moment I can aspire to win a Grand Slam, "said the 43 of the world in an appearance that passed in a relaxed tone until he was raised the scene in which he replied with a misplaced ball, which was about to hit the body of the Balearic, protected with his racket.
"Why should I apologize?" He questioned the journalist. "Of what?" He continued. "I did not hit him, I hit his racket, right? Why should I apologize? I won the point, I do not care. Why should I apologize? How big does the uncle have and how much money does he have in the account? I think he can take the ball out of his chest, brother. I will not apologize, "he added without any intention to back down. "But, you pointed directly at him," they insisted. "Yes, I was going for him. I wanted to hit him right in the chest ", he ironized before following the same line in the answer on whether he had been bothered by Nadal's delays:" No, he is super fast … ".
Half an hour later Nadal intervened, who had bitten his tongue the days before crossing and during the shift in Spanish he did go deeper into the subject. "This is because we are in a game and in the history of this sport there has always been respect and fair play. Nick does that to annoy his opponent, but it's not dangerous for me, but it can be for the line, because you do not know where the ball is going to go … It's not that I get mad at him, it's about we are in a tennis match, "he introduced.
"It's that we're helping him do more weird or special things. If we talk about him all day and from the ATP (the body that governs the male circuit) they do the promotion that they do all day, because he keeps growing. He has great talent and we have to promote that talent, because it is good for tennis, but there are others that should not be promoted, "he said. "I do not care if he's going to hit me with a ball, because he has the right to do it; another thing is that it's right or wrong, and I think he maybe has an ethic a little different from what most people have. "
And resolved the Balearic, which has been clarifying apparently the layout in the box after the eliminations of Shapovalov, Cilic or Thiem: "I do not think it's a bad boy, but I think he has lost a bit the way and I would have to recover because it would be good for your career. "
You can follow EL PAÍS Sports on Facebook, Twitter or subscribe here to the Newsletter.
(tagsToTranslate) nadal if the atp (t) promote (t) kyrgios (t) grow (t) balear (t) point (t) rector (t) circuit (t) say (t) australian (t) have (t) ) lose (t) way (t) reject (t) excuse (t) pitch (t) ironize (t) yes (t) go