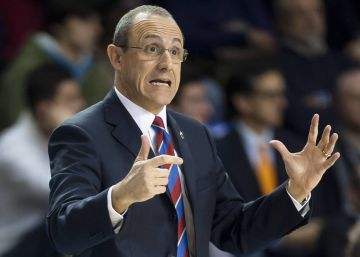 After five years in the NBA as assistant coach of the San Antonio Spurs, Ettore Messina returns to European basketball to take over the ambitious project of the Armani Olimpia Milan. The Italian coach, 59, signs a three-year contract with Olimpia Milan as coach and head of operations for the Lombard club. Plenipotentiary power in the technical and transfer plots for a history of the benches. Four times champion of the Euroleague (two with the Virtus of Bologna, in 1998 and 2001, and two more with the CSKA of Moscow, in 2006 and 2008) and European head coach in leading a game in the NBA (2014) covering a low doctor of Gregg Popovich, Messina relieves his compatriot Simone Pianigianni in Milan to give continuity to his almost 40 years of passion for the blackboard.
"Not only is your idea worth it. If they still trust me and I still feel comfortable on the track I could train up to 2,000 years. If I get tired it's better to do other things in life, but until now I'm passionate about what I do and it motivates me to connect with my players. I never thought I would have a career like that and I want to continue. I have been very lucky to have people who have given me opportunities and players who have helped me to do my job well. You can have quality, motivation, talent and desire, but if you do not find an opportunity it stops everything, "Messina reviewed in an interview for EL PAÍS during the last Eurobasket, in his second stage as Italian coach. The new opportunity has been given by the historic Olimpia Milan.
The Italian team was left out of the final phase of the current edition of the Euroleague and fell precipitously in the semifinals of the Lega (despite boasting pieces like Mike James, James Nunnally, Nemanja Nedovic, Mindaugas Kuzminskas and company) and now , following the example of successful reconstructions like that of the runner-up Efes (who went from being last in 2018 to fighting the title) has raised his sights by hiring one of the totem poles on the benches. Messina, equal to four continental crowns with Alexander Gomelsky, Pedro Ferrándiz and Bozidar Maljkovic, is second on the podium of the Euroleague, won by Zeljko Obradovic with nine titles.
Messina had his first experience in the NBA as Mike Brown's assistant in the Los Angeles Lakers (2011-2012) after his traumatic exit from Real Madrid (2009-2011). Then he faced his second stage at CSKA Moscow (2012-2014) and, after winning the League with the Russian team and finishing fourth in the 2014 Final Four, he definitely launched to make the Americas with the Spurs. "Working every day with Gregg Popovich and in a franchise as special as San Antonio is fortunate. I am part of a group with a unique chemistry in the world of basketball, I do not know if I have contributed anything. That would have to be said by others. Going to the US was like starting over because I had to establish new relationships, but I did it with the same intensity as in my beginnings ", counted the Sicilian coach in 2017. During this time, none of the attempts to take charge of any NBA team as head coach and now Messina returns to Europe, to Italy, to Milan, 200 kilometers from Bologna, where he reached for the first time the continental glory with a cast composed of Danilovic, Rigaudeau, Nesterovic, Sconochini, Abbio and Savic, among others. His new cast will leave the most hectic market of recent years, with CSKA, Efes, Barcelona and Milan itself betting hard to take the most glossy pieces of the showcase (De Colo, Sergio Rodriguez, Higgins, Davis, Sloukas, Udoh … ., all 'free agents').
You can follow EL PAÍS Sports on Facebook, Twitter or subscribe here to the Newsletter.
(tagsToTranslate) ettore messina (t) return (t) basketball (t) european (t) dress (t) armani (t) technical (t) italian (t) 59 (t) year (t) sign (t) contract (t) three (t) season (t) olimpia milán (t) coach (t) jefe (t) operation (t) club (t) lombardo