SCAN SPORT – An Odoxa poll for RTL and Groupama shows a real French craze for the Women's World Cup that starts Friday even though 92% of respondents admit to misunderstanding the Tricolores.
The World Cup begins Friday in France with the opening match between France and South Korea. The daughters of Corinne Deacon will be able to count on the support of a good part of the country in their quest for a first world title. A poll conducted on June 2 by the Odoxa Institute for RTL and Groupama shows that 63% of respondents will follow this competition (that goes up to 92% for football fans). By way of comparison, in June 2018, this percentage was 66% for the Men's World Cup in Russia. In the details, the study reveals that 35% of the interviewed panel will watch a few matches and 25% will be interested in the result, 3% of respondents say they will go to the stadiums.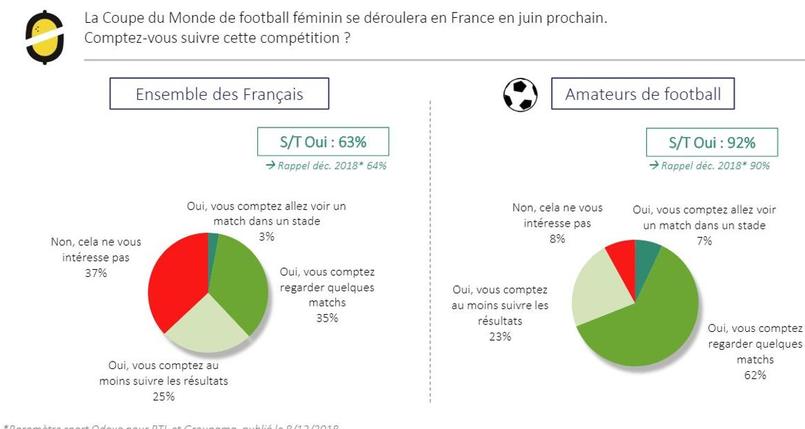 Even if they are not favorites but rather outsiders, the Blue have the confidence of their compatriots. 79% of French people believe in their chance to raise the world cup and in football fans, this rate goes up to 93%!
92% of French people are unfamiliar with players
While the majority of French remains optimistic about the chances to see girls imitate the men of Didier Deschamps last summer, a large proportion of respondents also confess not knowing well the selected group. 92% consider that they are unfamiliar with the players and 39% say they do not intend to discover them.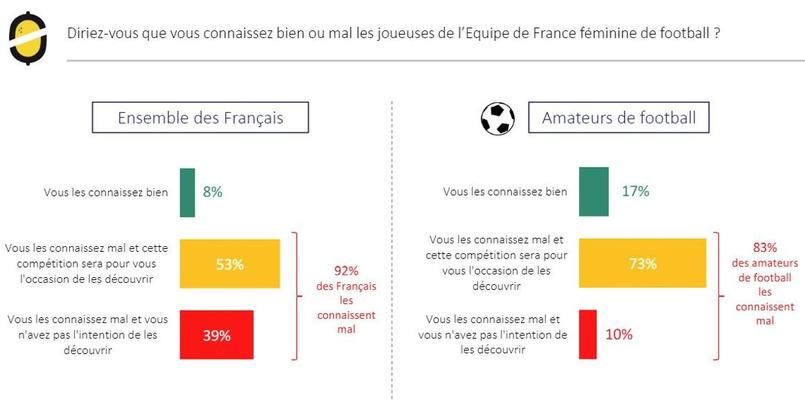 Proof that the practice of football is democratized over the years (the number of licensees has increased from 40,000 to 170,000 in four years), the French are 81% to think that they would encourage their daughter to play this sport if it theirs asked. 16% would try to dissuade her and 3% would forbid her to set foot on a football field.
(tagsToTranslate) news sport (t) sport (t) hyper actualite sport (t) real time (t) live (t) slide (t) testimonial (t) redaction (t) subject sport (t) buzz sport (t) sports business (t) news (t) sports (t) sports (t) sports news (t) football (t) league 1 (t) tennis (t) rugby (t) athletics (t) basket (t) cycling